Skip to Content
Austin Roof Cleaning Services
Understanding the Importance of Roof Cleaning
Your roof is one of the most important components of your home or office park. Roofs fulfill obvious practical responsibilities like shelter, but they're also key to keeping your home cool in the summer months and warm during winter because they absorb heat and trap it in the attic below. Homeowners with a bad roof will notice a difference in their energy bill. In addition to the practical advantages of keeping your roof in good shape, routine maintenance increases its lifespan and decreases the likelihood that you will need expensive replacement work done on your roof. A well-kept and clean roof is also essential to maintaining your residential or commercial building's curb appeal.
CONTACT US FOR YOUR FREE ESTIMATE!
How We Clean Your Roof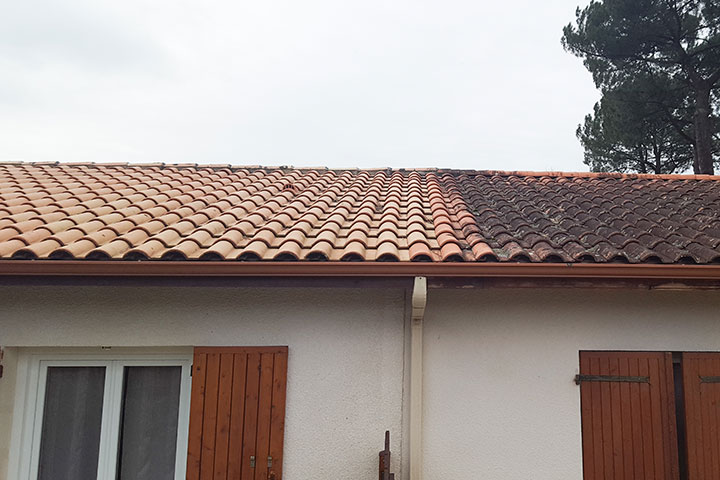 There are several types of roofs used in residential and commercial structures. Three of the most common include sheet metal, tile, and asphalt shingle roofs. Each of these styles present unique challenges during the cleaning process. Our years of experience have taught us how to safely and effectively clean your roof. Our cleaning process will depend on what kind of roof you have. For instance:
When cleaning sheet metal roofs, we'll give your roof a detergent bath. How much we use will depend on the level of debris on your roof. We also continue to wash until mold and mildew no longer reflect the sun.
Because we can't walk on a tile roof without damaging it, so we use a lift to reach a level that allows us to clean without getting water under the tile.
We don't pressure wash methods on asphalt shingle roofs to avoid penetrating the surface of the roof. Instead, we'll use a detergent bath.
It is not wise to forego maintenance to your roof. It is recommended that you have your roof cleaned once a year.
Call Us to Schedule an Appointment
At Allied Services Company, we understand the nuances of cleaning your roof. Whether you have sheet metal, tile, or asphalt roofs, we're the residential roof cleaning experts Texas trusts to increase the lifespan of their roof.
Power Washing Specialists in Austin
Connect with us for a free estimate