Skip to Content

Unrivaled Pressure Washing & Window Cleaning Services in Austin
As a property owner or manager, you know how important it is to keep your home and business looking clean and tidy from dirt buildup and mold. Your community notices how your property looks each time they pass by or visit. The state of your property's cleanliness can leave a great first impression if it is in good shape. At Allied Services Company, we understand this desire to have a clean exterior, which is why we have created a business providing quality exterior pressure washing services for residential and commercial properties in Austin. Please call us today at 512.593.1272 to learn how our pressure washing specialists can help!
At Allied Services, we customize each clean to your unique project needs. Our gentle method of using detergents with our low-pressure cleaning system ensures no damage be made to your property. This cleaning method helps rid your home of fungus, algae, mildew, and other pollutants; leaving your home clean and safe. Additionally, our low-pressure cleaning uses less water, which in turn is better for your wallet and the environment. Contact us today, and let us customize your clean for your intended results.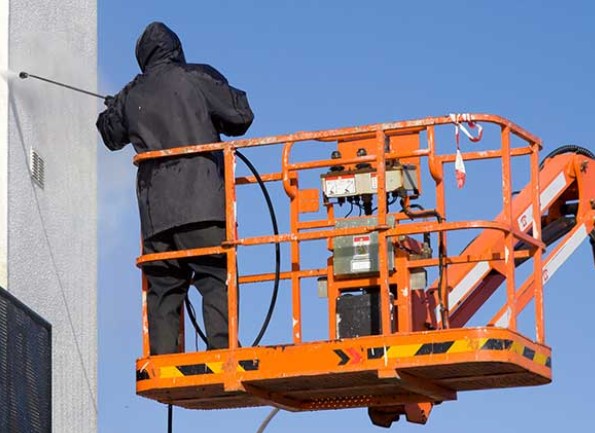 If you are a business owner, keeping up the appearance of your commercial property can not only increase the property's value, it can also attract more customers. New visitors are unlikely to want to enter a building that is dirty, grimy, or looks damaged. Your customers and employees will also benefit from breathing cleaner air in and around your property.
Tell Me More
We had an excellent experience with Allied Services. They were prompt in their reply for a quote as well as in showing up to perform the work. They also went above and beyond what was expected.

When the crew finished the original job for which they had given me a bid earlier than anticipated they filled the rest of their time at my house performing other jobs they noticed needed to be done (i.e., power washing my deck and various areas of my driveway in addition to the roof). So we came away with much more work done than we had anticipated for the money, which made it feel much more valuable. Whenever we need power washing again, we'll be calling Allied.
Excellent job and great price. We are a commercial property management firm and found them to be one of the best we have used. Thanks for a job well done, paying attention to the details!
Allied Services Company was fantastic!!!! We had a great result, and couldn't be more pleased- Patti Bell
Taking pride in the job to be done is alive and well at Allied. Had a VERY dirty metal roof and Jonathan and team didn't just show up and give it a basic cleaning. They showed up and worked on the roof until it looked almost new. Excellent quality, attitude, and very reasonable price. Total pros. Recommend without reservation!
Excellent! Our limestone rock area around the pool looks brand new. And so does the front sidewalk up to the front door, along with the driveway and brick wall in the front yard.
I had Allied wash my stone house, driveway & fence. Wow, what a difference it made! The limestone of the house had significant black stains, the driveway & fence were both pretty grey. After washing, everything is so much brighter than before! I was especially impressed with the results of the house. I didn't think it would ever look that good again, but it looks like new. Seriously, don't wait & don't try to do it yourself. Give these guys a call!
Would definitely recommend! Shawn and his team pressure washed our house and the before and after are night and day. The whole process from requesting an estimate to the day of service was very easy and the communication was professional and prompt.
Highly recommend! After looking at several different companies for pricing, not only did Allied Services have the best prices, they were very prompt at returning my call, sending an estimate, and staying in contact for scheduling. They power washed our roof and driveway and I'm thrilled with the results. John was on-time, very thorough, and so courteous. We will definitely be using Allied Services again!
Great to work with and did an amazing job!
Wonderful service. Our solar panels were beyond filthy, and the gentleman did a fantastic job. Will definitely call the next time I need another solar panel cleaning.
Allied crew did a great job. On time and ready to work. Actually came back a second day to finish the job right. Thank you
I only have 1 before and after photo showing the massive difference between our sidewalk now and our neighbors. All the others show what Allied Services Company did, sidewalks, back walkway, paverstones, driveway, retaining walls, fence and the house itself(last 2 not included in photos). Reliable.On time. Friendly. Knowledgable. Easy way to pay online. Well worth the money:)
Our 1st impression with Allied Services came from our estimate. Shawn explained the process thoroughly and the estimate was below other providers in the area. Allied was able to provide a crew in short notice and they came on time over a holiday weekend. They pressured wash our home's stucco exterior, patio and pool area, sidewalks and driveway. The work was high quality and completed on schedule. Would definitely work with Allied again.
We recently bought a home in Pflugerville, and it needed some love. We don't exactly love the paint color, but we knew getting it pressure washed would need to be done before any painting. It honestly looks like a new house, and we are even holding off on painting because it looks so much better!
We called Allied and they were quick to respond and get us a quote. I met with Shawn and he walked me through what services they could provide along with the pricing. It was easy to understand, and I felt at ease with his in depth knowledge. Once we got everything priced out it was extremely easy to schedule our service. The crew was extremely professional and Miguel explained everything to me before they started their work.
I was so shocked how quickly they were able to get everything done. Our house had so much mold and grim on it, and it sparked once they were done! I still want to change the paint color, but for now our house is way improved! I would highly recommend Allied Pressure Washing to any of my neighbors, friends, and family!
I have to say that Allied Services went above and beyond taking care of our needs at our residential building downtown. They provided us great customer service, they took the time to satisfy our expectations. The staff was easy to work with and very responsive whenever needed. I highly recommend Allied Services.
Shawn and his team did a great job power washing our home. There was a small issue with some of the paint on the siding, but they came out the next day, explained what it was, and addressed it as much as possible. Their pricing is good, and they insist that you are satisfied before paying the invoice. I would recommend them to anyone.
They came to us with a decent bid and came out the next day. Now my casa is a clean machine. Thanks, guys.
We had our whole house, eves, driveway, porch, sidewalk, and patio power washed by Allied Services Company, and we were very happy with the results. The plant and pet friendly detergent that they use was applied at a lower pressure than most companies use, which protected painted surfaces and cleaned at the same time. The cost was within our budget, and their equipment and staff were technologically advanced. The two employees who did the work were very friendly, and gave us an opportunity to inspect their work and answer questions before leaving. That was helpful and much appreciated.
I would highly recommend this company. Even though my fence was old with green mold and not in the best of condition it looked amazing after Will power washed it. My first contact was with Shawn and I found him dedicated to his profession, business like but friendly and loving what he does. Will is also very proud of what he does and both of these gentlemen care about giving their customers the very best service possible. The quality both Shawn and Will have is that they love what they do and they are honest. If you need their services they will treat you in a friendly, professional, timely fashion and their pricing is extremely reasonable. Give them a call.
Got an estimate from Shawn that was quick and easy and reasonable. Scheduling was fast and the work done exactly as I outlined, even when I wasn't on site to supervise. I showed up today and it was done exactly right. Thanks for a job well done!
Allied Service Company did a great job washing my roof, house, patio and driveway. The workers were prompt, courteous and professional. Great job! I will use your services again. Thank you.
Did a wonderful job on our lakehouse rock and roof. Cleaned the sidewalks too and just the best people to work with. Will use them again
Allied Services pressure washed our entire house, deck, fence and patio furniture. Everything looks brand new! We are extremely happy with the results and plan on using their services again in the future. Very professional and super responsive.
Our condo association was looking for a company to spruce up our moldy brick walls and sidewalks and found Shawn and Will of Allied Services Company. I spoke extensively with Shawn after he drew up an estimate. There were reservations about spending money on pressure washing, and understanding this, Shawn volunteered to do a complimentary one hour demo of the difference that the washing would make. The results of this demo sold us! We realized that not only would it enhance the image of our property, but would also make it a safer place for us to live! The before and after appearance was unbelievable, especially on the sidewalks and concreted areas.
Throughout the whole process, Will assured us that his work was guaranteed, and let us know that if we noticed any areas still needing more attention, he would follow up. Shawn repeated that no bill would be presented until our satisfaction was met. Many companies make promises like this but don't honor it. This was the exception!
The professionalism and willingness to listen and explain the process was beyond expectations! These guys came in the morning and stayed working all day until 5:00 or later until the job was done.
I cannot say enough about their dedication and reasonable charge. No one even came close to their asking price. This definitely encourages customers to be repeat customers, especially with the thoroughness of this great team! Check them out! You won't be disappointed!
I contacted Shawn regarding our patio and fireplace cleaning project and needed it done by Saturday. Not only did he quickly respond to my emails and gave me a quick turn-around with a quote, he also was able to get our patio done in plenty of time! The guys came on-time as promised! They explained exactly what they were going to do, did the job, cleaned up after themselves and it turned out BEAUTIFUL!!!!!!!! I would recommend these guys to everyone. GREAT customer service and a job well done! Thank you
I would highly recommend this company. Shawn and the crew power washed my house today and it looks like a new house. They did an outstanding job and were very conscientious. I will use them again.
WAY TO GO GUYS!! My house was only on the market 3 days! I am truly grateful for all of your hard work. My house looked amazing for the showings. Shawn, and Howard are definitely great contractors to work with. Thank you for making this such a painless experience. I will definitely be using you at my new home in Westlake!
I am so thankful I was referred to these guys to take care of cleaning my house. After my first experience with pressure washing, I was apprehensive about pressure washing all together. Shawn and Howard were very informative, and polite when explaining to me that they had a soft washing alternative to pressure washing, which would avoid damaging my house. They STEAM CLEANED my property and it looks, better than the day I moved in. I will definitely be calling this company back next year!
Very thankful we chose you guys to come clean our roof before we decided to paint it. You guys made our tile roof look like brand new. I will be using you again in the future!
Outstanding work in timely fashion, Allied Services will be doing work for my business again!
Contact Us
Need to get in touch? We'd love to hear from you! Please fill out the form below and we'll contact you as soon as possible.