Skip to Content
Professional Window Washing in Austin
Allied Services Offers Eco-Friendly Window Washing for All
Windows on your home or business are important for both the inside and outside of your home. Taking care of them can be difficult depending on how high they are on your building and you have access to proper cleaning tools. At Allied Services Company of Austin, we offer window cleaning services with the industry's best solutions and professional tools. We have many years of experience helping Austin, TX residents and businesses increase their curb appeal and letting in the sunshine without dirt marks or streaks. All cleaners come licensed and insured to offer peace of mind while they clean your hard to reach exteriors.
Our experience has also led us to find the best products to use for your windows and for the environment. Since we clean your windows outside the solutions and water we use get into the ground and older products really hurt the foliage beneath the window. Now, we use only eco-friendly, biodegradable detergents and all of the water used in our power washing services gets recycled. We reuse it on other projects. All of our products are good for your windows and the environment. Call us today at 512.593.1272 to get a free estimate for your professional window cleaning from Allied Services Company in Austin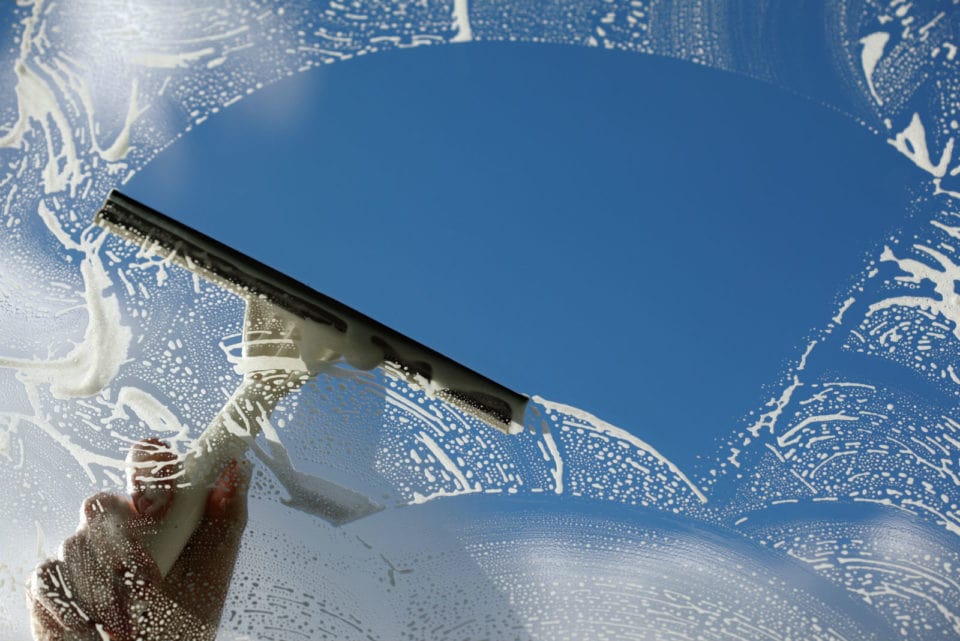 Why You Should Hire Allied Services for Window Washing
When you are trying to make sure your windows are clear and pristine, you should hire a professional to get them cleaned right away! Allied Services Company in Austin is just the company. For years, we have been helping residents and businesses keep their windows clear of any streaks or debris. Allowing natural light into your space helps create a lively space for guests and customers. The use of fluorescent light can create headaches and harm the eyes. No matter if you are a small home in Austin, TX, or your own a business with floor-to-ceiling windows, we can handle the job. Below are some more reasons you should have your windows cleaned by a professional window washer:
Extend Your Window's Lifespan: The longer your windows stay dirty the harder it is to clean them. Having your window cleaned more often helps them last longer and function better. Replacing windows can be expensive but keeping them clean will prevent you from having to buy new ones and have them installed.
Prepare Your Building for Sale: Are you ready to sell your Austin, TX home? Renting your retail space to new businesses? If you have your windows cleaned regularly your building will shine on the market. Also, having clean windows allows potential buyers to see what the building looks like at its best, which helps them be able to take pride in the clean visage. Something hopefully, they will continue after purchasing.
Improved Building Appearance: Clean windows allow passersby to see what is clearly on the inside and help draw them in when you are looking for prospective customers or guests. Whether you are decorating for Christmas or hosting a 4th of July sale, removing the streaks, watermarks, and collected dust and dirt from your windows allows the inside to shine just as much as the outside.
Benefits Of Our Window Washing Services
When you need your windows cleaned by professionals, trust in the professional services offered by the window washers at Allied Services Company in Austin. We are the number choice and have been for years. We offer window washing services for the outside and inside to ensure they get fully cleaned. Our fully equipped team is prepared to clean any sized window on any residential or commercial building. We also use eco-friendly products to not hurt the environment around your windows. Your gardens and landscaping are totally protected when you hire Allied Services to clean the windows in your office or home. Rely on our biodegradable detergents and recycled water to get your windows their cleanest. We also train all of our cleaners in the art of customers service while cleaning. You can expect them to show up on time, in uniform, and to be extremely polite. We treat your home as if it were our own!
Power Washing Specialists in Austin
CONTACT US FOR YOUR FREE ESTIMATE!
Allied Services Gets Your Austin Windows Cleaned Today
Not only do we offer window cleaning services, but we also provide power washing, roof cleaning & gutter cleaning, low-pressure steam cleaning, deck cleaning, water restoration & remediation services, pre/post-move cleaning, parking lot cleaning & parking garage cleaning, and more. For years, we have been helping businesses and residents in the Austin, TX area get their homes and businesses their cleanest. You can count on excellent customer service. We are on time, professional, and know exactly how to get your building cleaned quickly. Our staff is also licensed and insured to complete all of the services we offer. When you are looking to have these services, please call us right away! We will come to your home or office and offer a free estimate after our consultation.
For more information about residential window washing in Austin, contact Allied Services Company at 512.593.1272. In addition to window washing, we're happy to provide power washing, roof and gutter cleaning, and many more services.