Skip to Content
Professional Gutter Cleaning Service in Austin
Let the Gutter Flushing Experts Handle Your Most Burdensome Chore
Gutter cleaning is one of the most thankless tasks required of homeowners. Carrying your ladder from the garage to the gutters, and from section by section to remove debris can take all day. Because most people don't own a ladder tall enough to adequately facilitate proper cleaning of their gutters they can miss potential problems. Gutter flushing is a potentially unsafe and laborious task. Don't ignore the problem until it needs expensive repairs. Allied Services Company provides gutter flushing services in Austin.
Why Should I Get Professional Gutter Flushing Done?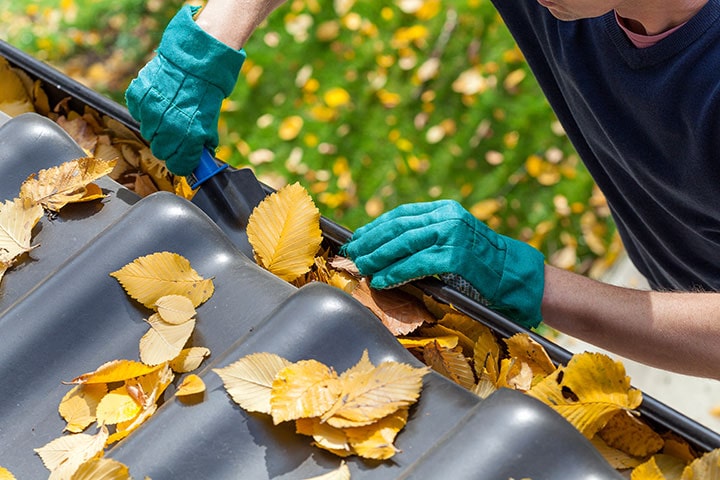 What does my gutter do?
Your house's gutter system is designed to protect your home's roof and foundation. It facilitates the flow of water from your roof to the ground. A proper gutter system will deposit rainwater a safe distance from the house to prevent basement flooding.
Why do I need to clean my gutter?
Because it is exposed to the element, it collects debris like leaves and pine needles. Over time the debris acts as a dam and prevents water from making it to the ground. Additionally, your gutter is a prime spot for mold and mildew to form. Your gutters should be a vibrant white color and mold and mildew gradually turn it an unsightly greenish color.
Why should I pressure wash my gutters?
Many homeowners simply clean out the debris that collects in their gutters. But there are other problems that gutter flushing can solve. Mold and mildew can accumulate over time. Allied Services Company has the experience to flush your gutters.
How does it work?
We use pressure washing equipment to clear any debris and then remove slime, mold, and mildew from the exterior and interior of your gutters. Our equipment utilizes high pressure, high heat water to aggressively flush your gutters.
We Flush Your Gutter in an Eco-Friendly Manner
Allied Services Company provides expert gutter flushing in Austin. We have the equipment and know-how to work your gutters into tip-top shape. As a Texas-based eco-friendly company, we believe in water conservation. We stay up to date on the last technologies in our industry to provide efficient and flawless service.
Power Washing Specialists in Austin
CONTACT US FOR YOUR FREE ESTIMATE!