Skip to Content
Austin Parking Lot Cleaning Service
Your Source for Parking Lot Power Washing in Austin, TX
Your parking lot may not seem like an important part of your business, as it's just a place for customers to leave their cars as they come inside. However, your parking lot may be making a bigger impression on your guests than you think. As customers visit your location, the parking lot is the first part of your business they come into contact with, stepping foot on it as soon as they leave their car and head to your door. If your lot is covered in dirt, stains, and grime, customers will notice this, and it could reflect badly on your business. A clean and inviting lot will give the impression that you take pride in your business and its appearance. Not to mention, it will prevent guests from bringing in outside contaminants as they enter your location. The best way to keep your lot at its cleanest is with parking lot power washing by Austin's Allied Services Company. This method of cleaning will lift all sorts of dirt and stains to leave your parking lot immaculate. Call us today to learn more or to schedule service for your commercial space.
Power Washing Provides More Effective Cleaning
While commercial sweepers and other forms of cleaning can remove dirt, dust, and other debris from your parking lot, nothing is able to get it as clean as a commercial power washer. That's because this method of cleaning uses the power of highly pressurized water to lift even the most stubborn substances from your parking lot surfaces, effectively removing dirt, grime, and stains. At Allied Services Company, we use our vast selection of commercial pressure washing equipment coupled with eco-friendly detergents to get your pavement cleaner than it's ever been. Your parking lot will be so clean that you'll wonder why you've never had it power washed before.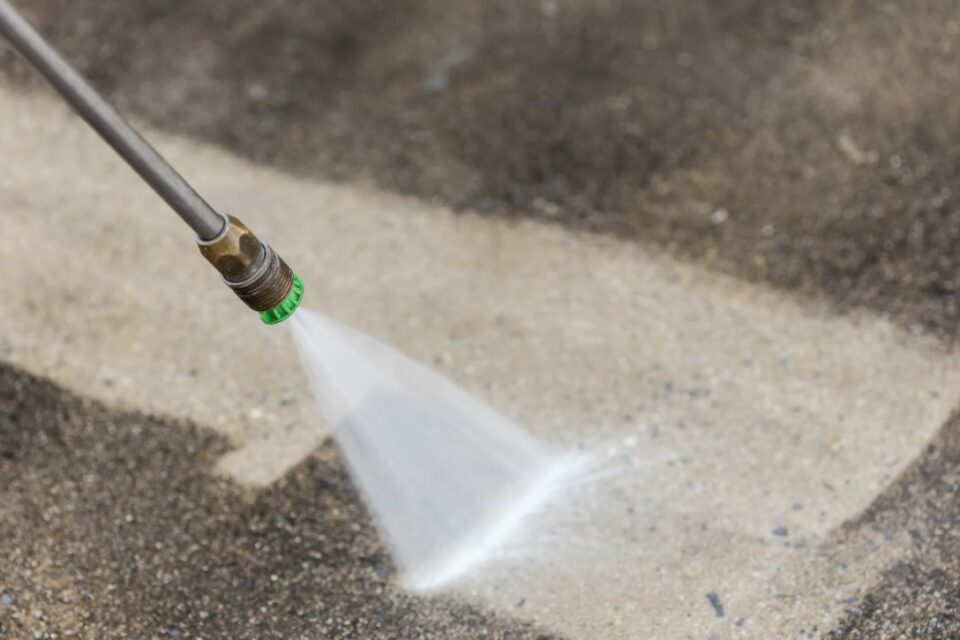 Clean Up a Variety of Stains & Debris
Power washing your parking lot ensures that all types of stains, grime, and spills are cleaned up. No other cleaning method can do that. Parking lots attract a number of stains, pollutants, and other debris that can make them look unappealing, which can reflect poorly on your business. You may find that your parking lot has become covered in oil, gum, or graffiti and wonder what the best method is for cleaning deep to thoroughly remove these stains and contaminants. The answer is power washing. The pressurized water we use in all of our commercial parking lot cleaning jobs lifts stains right before your eyes, even stubborn ones like oil and paint.
The water penetrates deep so there are no traces of stains left behind, just a clean and inviting parking lot. A cleaner parking area for your customers also means they won't be tracking dirt into your business as they walk from their car to your front door, helping you to keep your entire commercial space clean.
Get Cleaning Backed by Experts
You may have seen power washing equipment for rent or sale and considered investing in this equipment and completing parking lot cleaning yourself. While this may work for small jobs, like a single walkway, larger jobs should be left to professionals with the proper knowledge. Allied Services Company can provide those professionals. Think of all the wasted hours you'll spend setting up the rental equipment and figuring out the best methods to use it. Not to mention that you'll likely move at a slower pace since this isn't a job you're familiar with. That's time you could've spent doing more important things for your business. And on top of that, different parking lot surfaces, like asphalt and concrete, require different cleaning methods, using the appropriate pressure settings and detergent. Without the necessary expertise, you could end up doing more harm than good. We'll complete your job efficiently and produce superior results compared to that of DIYers.
Preserve Your Parking Lot
Power washing of your parking surfaces acts as a form of preventative maintenance to ensure better preservation of the lot. Our pressure washing services have the power to remove even the deepest of stains, as well as bacteria and mildew. All of these substances can be harmful to your parking surface, causing premature deterioration. Regularly scheduled commercial power washing will remove these and prevent them from causing any damage to your parking lot, which will help you extend the lifespan of the lot, so you won't have to resurface or paint as often as you otherwise would.
Choose Allied Services for Commercial Projects, Large or Small
Are you ready to give your parking lot a thorough cleaning? The team at Allied Services Company is here to do just that. We use eco-friendly products and equipment in all of our exterior cleaning jobs in Austin, TX to ensure a sustainable solution. We also guarantee no property damage while we're completing your job, backed by a significant liability insurance policy. Our team provides peace of mind because you'll know immediately that you're working with a group of experts with years of experience. This ensures we get your job completed quickly and to the highest standards possible. Get in touch with us to request a free estimate or to schedule service at your location.