Skip to Content
Austin Parking Garage Cleaning Service
Parking Garage Pressure Washing in Austin, TX
Do you own a business with a parking garage? Are you the manager or owner of a stand-alone garage that provides parking solutions to visitors to Austin? If so, you know how important it is to draw customers to your parking garage. After all, this is how you earn your company money. Unfortunately, the look of your parking structure plays a vital role in a visitor's decision to park in it. That's why you have to keep your structure in tip-top shape with parking garage pressure washing in Austin, TX. Allied Services Company provides this service and many more throughout the Austin area, and we're ready to take on your commercial project of any size. Our team will ensure your parking garage is thoroughly cleaned and presentable for potential visitors and monthly tenants. Call us today to learn more or to request a free estimate.
Regularly Cleaning Your Parking Garage Creates a Better Space for Your Clients
An unkempt or dirty parking garage reflects poorly on you as a business owner or property manager and could even cause you to lose business. Individuals don't want to leave their vehicles parked in a questionable parking structure, which is why spending the time and money on professional cleaning is a worthwhile investment. Getting regular parking garage cleaning in Austin, TX from Allied Services Company will provide all of the following benefits: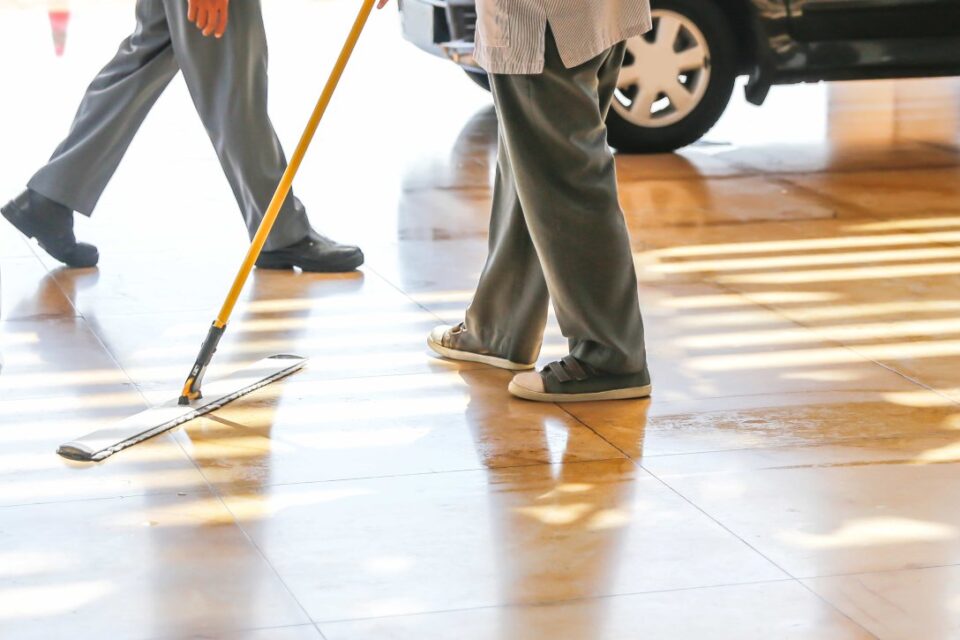 Increased safety: As a business owner or commercial property owner, you have to keep the safety of your visitors in mind. The buildup of dirt, as well as slick spots caused by oil and other leakages, can bring about significant liability concerns. If someone slips and falls, this leaves your business liable for any injuries caused and healthcare needed. Even excessive dirt can lead to negative consequences as a disgruntled tenant could voice their unhappiness and prevent other customers from leasing a spot, costing you monthly revenue.
Improved curb appeal: You want your commercial space to look inviting, even if it is just a parking structure. A garage that isn't well-maintained gives the impression that management doesn't care about the space, which leads visitors to view the structure as an unsafe and unappealing place to leave their vehicles. Visitors or those looking for monthly parking spaces will likely look elsewhere when they see a garage in poor condition. That's why spending money on the upkeep of your parking structure is worth every penny. A clean space speaks volumes about the management and convinces customers it's the right option for them as well as keeps current tenants happy.
Easier maintenance: Waiting too long to clean your parking structure means the process will be made that much harder. The longer stains have to set in, the more difficult they will be to remove. That's why regular pressure washing of your Austin, TX parking garage can help make maintenance easier. With scheduled cleaning, we'll remove stains and contaminants that could otherwise degrade the quality of the concrete. Over time, these substances can deteriorate your parking surfaces, which could lower the value of your garage or require significant repairs and restoration.
What Allied Services Brings to the Table
When you're trusting your entire commercial space to a cleaning contractor, you want to ensure that you're hiring one you can count on to provide superior service. At Allied Services Company, we strive to bring our customers the best service. When you hire us, you'll get:
Expertise: Our commercial cleaning crews have the experience to get your job done right and safely. With parking garages, we aren't in an open area, so we're sure to keep water away from elevators, electrical gates, and any other components that may be harmed by water. Our expertise ensures your peace of mind knowing that your garage is in good hands. An experienced crew also means we'll get your project completed on time to produce minimal disruption to your daily operations.
Professional equipment: A commercial power washing job requires specialized equipment different from that used on small residential jobs. That means when you need parking garage power washing in Austin, TX, you need a team with the right equipment to handle a project of this size. Our commercial-grade pressure washers produce highly pressurized water to lift even the most stubborn and deep stains from the surface of your garage. You'll be amazed at the results we can produce with our pressure washing services, often lightening your concrete by two or three shades.
Thorough cleaning: At Allied Services Company, we ensure our team does a thorough job of cleaning your parking garage. No surface is left untouched, giving you a complete clean that's immediately noticeable. We can clean as much or as little of your parking garage as you want. Whether you're just looking to clean the floor, or you'd like to do it all, we're here for you. We're able to wash down walls, clean stairwells, and even do overhead piping upon request.
Fully insured: Our main goal is to keep your property and possessions safe while we complete work at your location. We work diligently to ensure that your property is protected and have a policy of "if we damage it, we will replace it." We're also backed by a significant liability insurance policy. This means you're protected in all circumstances, giving you total peace of mind.
Eco-friendly: At Allied Services Company, we're committed to providing sustainable exterior cleaning solutions in Austin, TX. All of our products and equipment, including the detergents used in power washing, are formulated to be friendly to the environment.