Skip to Content
Expert Commercial Window Washing Services in Austin, TX
Allied Services Co. Cleans Your Commercial Windows
As a business owner, you should be concerned about the appearance of your building. First impressions matter, especially when attracting new employees or customers. If your office windows are dirty or covered with smudges and streaks, it can create the wrong impression and cost you a sale. On the other hand, sparkling windows and a well-maintained landscape can convey your professionalism and pride in your work. If you could use commercial window washing services in the Austin, TX area, Allied Services Co. is equipped for the job. Whether you have a single-pane glass storefront or hundreds of windows in a high-rise building, we're here for you. Reach out to us today to request a free estimate from our well-respected commercial window washing company!
BENEFITS OF OUR COMMERCIAL WINDOW CLEANING SERVICES
Are you on the fence about investing in commercial window cleaning services? Here are a few benefits for you to consider:
Promotes Good Health – Clean windows are instrumental in keeping allergens at bay in indoor spaces. Removing dust, pollen, hair, and other contaminants lurking on your windows and windowsills can help make your office a safer, healthier place to work. It also discourages mold growth by keeping your windows free of condensation and moisture.
Improves Productivity – Several studies have shown how having a clean workplace boosts employee morale and productivity. Make your workplace shine with clean windows that let in the sunshine to lift moods and inspire creativity.
Enhances Safety – Relying on a commercial window washing service keeps your employees safe by not asking them to complete tasks they're ill-equipped for or they're not trained to do. Our team possesses the experience and equipment to prep areas for cleaning while preventing accidents in the workplace.
Creates a Positive Impression – Appearances matter in business. Project the professional image you wish to convey with a clean office environment, including your interior and exterior windows. Trust us; clean windows can go a long way in creating a lasting good impression.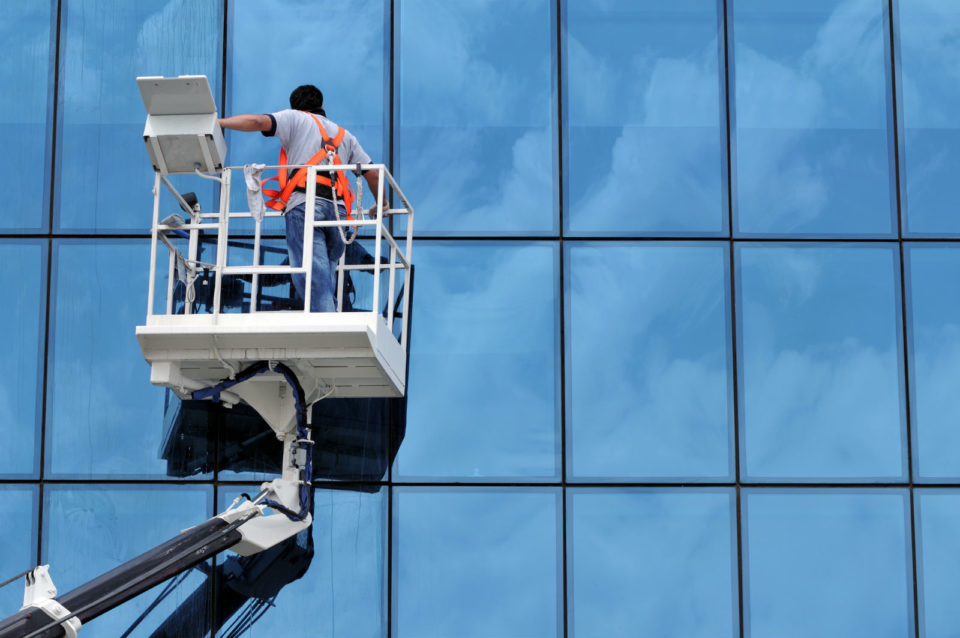 HIRING PROFESSIONAL WINDOW CLEANERS VS. DIY WASHING
Many Central Texas property managers and business owners rely on Allied Services Co. to keep their windows sparkling clean. While you could attempt to clean them yourself, it's usually more efficient to leave it to up to our licensed, insured professionals. We have specialized commercial window cleaning equipment, such as squeegees, extension poles, and ladders, to access difficult-to-reach windows without jeopardizing your safety or damaging your property. We also use eco-friendly commercial window cleaning supplies with biodegradable detergents to reduce your impact on the environment. Rely on our many years of expertise to save you time while preserving your professional image. Whether you prefer daily, weekly, monthly, or quarterly commercial window cleaning services, we can create the cleaning schedule that works best for you.
WHY CHOOSE ALLIED SERVICES CO.?
While there are several commercial window cleaning companies you could call in Central Texas, here are a few reasons why you should choose Allied Services Co. for a hassle-free experience:
Fully Licensed and Insured
Excellent Customer Service
Experienced Employees
Free Estimates
Eco-Friendly Washing
WE ALSO OFFER PRESSURE WASHING, PARKING LOT CLEANING, & MORE
In addition to our commercial window washing services in Austin, we also provide the following:
Power/Pressure Washing – Investing in professional pressure washing services is one of the best ways to keep your commercial property looking immaculate. Our team uses this technique on virtually any exterior surface, including roofs, gutters, driveways, parking lots, and more.
Roof Cleaning – Your facility's roof sees direct exposure to the elements, making it susceptible to buildups of dirt, grime, mold, and more. Protect your roof's structure and improve its appearance with our commercial roof cleaning services.
Gutter Cleaning – Gutter cleaning is a cumbersome chore often overlooked by business owners. Most people detest climbing a ladder to keep their gutters free of leaves, dirt, and other debris. However, having clean gutters is essential to preserving your building's foundation. Let us flush your gutters, so they can continue to do their job of safely depositing rainwater on the ground!
Parking Lot Cleaning – Never underestimate the importance of your company's parking lot when creating an impression on visitors. The parking lot is often the first part of your business that a person sees, meaning it can start your partnership on the right or wrong footing. Our commercial sweepers will keep your parking lot free of stains, dirt, and grime.
Parking Garage Cleaning – If you own a business with an attached parking garage, you have a responsibility to your employees and customers to ensure a safe, clean place to park. Rely on Allied Services Co. to keep your parking garage in tip-top shape with our thorough cleaning services.
Low-Pressure Steam Cleaning – Not all surfaces are suitable for high-pressure washing. We also offer low-pressure steam cleaning as a gentler alternative for older buildings with wood, masonry, or natural stone. This method also conserves water and doesn't use harsh chemicals.
Contact Us to Discuss Commercial Window Cleaning Prices
If you would like to discuss our commercial window cleaning prices, we encourage you to contact us to set up a free consultation. Whether you need a one-time cleaning, or you're interested in recurring commercial window cleaning services in the Austin area, we'd love to talk to you. We serve businesses in many surrounding communities in Central Texas, including Georgetown, Kyle, Leander, Round Rock, Taylor, and Westlake. We work hard to maintain an A+ rating with the Better Business Bureau. Check out our testimonials to see why our commercial window cleaning company comes highly recommended!
CONTACT US FOR YOUR FREE ESTIMATE!