Skip to Content
Pressure Washing Company in Austin
Keep Surfaces Clean with Pressure Washing in Austin, TX
The exterior of your home or business makes a big first impression on anyone who visits. Do you want a dingy, dirty exterior to be the first thing people see when they arrive on your property? We didn't think so. At Allied Services, we provide pressure washing services in Austin, TX, and the surrounding areas, to remove layers of dirt, mold, grime, and debris from all types of exterior surfaces. We are one of the area's most trusted pressure washing companies, using eco-friendly products and equipment that are tough on dirt but easy on your surfaces and the environment. Our attention to detail has made us the company area residents turn to for all of their power washing needs. We can complete services at both residential and commercial properties. Call us today to learn more about the level of service we provide. We serve the surrounding areas of Georgetown, Round Rock, Pflugerville, Taylor, Cedar Park, Lake Travis, Lakeway, Westlake, Dripping Springs, Bee Cave in the Central Texas region.
Clean Nearly Any Surface
The cleaning powers of pressure washing have few limits. The team at Allied Services can use this technique to clean nearly any exterior surface, whether you own residential or commercial property. Our team can provide power washing service for all of the following surfaces:
Decks: Patio and pool decks are exposed to the elements all day. The sun, rain, and pool water can all take their toll on the wood surface. If your deck has lost some of its natural beauty, you can help restore it by allowing us to pressure wash the surface to remove dirt and weathering.
Stone & Stucco: These surfaces require special care when washing due to their temperamental nature. Our team knows just how to gently clean both stone and stucco to remove dirt while protecting the surface.
Roofs: Pressure washing is a safe method for cleaning all types of roofing surfaces. Regular cleaning of your roof will remove mold, mildew, and more, helping to keep it clean and prolong its lifespan.
Gutters: Cleaning your gutters can be an unpleasant chore. Now you can leave the work to us. We'll clean your gutters to remove any leaves that have collected inside, as well as to remove dirt and debris from the exterior.
Driveways: Your driveway sees a lot of traffic. Over time, all this traffic and exposure to the elements can degrade the driveway's appearance and, along with it, your curb appeal. We can clean your driveway to remove any buildup, which will also help to prevent structural damage.
Parking Lots: Your commercial parking lot says more about your business than you think. You want to keep the area clean to make a good impression on customers and clients. Our pressure washing services will allow for a deeper clean than other methods, such as lot sweeping.
Parking Garages: If your business has a parking garage, you want to keep it clean and neat to help maintain a professional image. Our team has experience handling large cleaning jobs such as a parking garage, and we'll ensure yours looks great.
Solar Panels: Solar panels need to be clean to operate at peak efficiency. A buildup of dirt and grime can prevent panels from effectively capturing the sun's energy. Our team can clean your panels to ensure they're ready to do their job.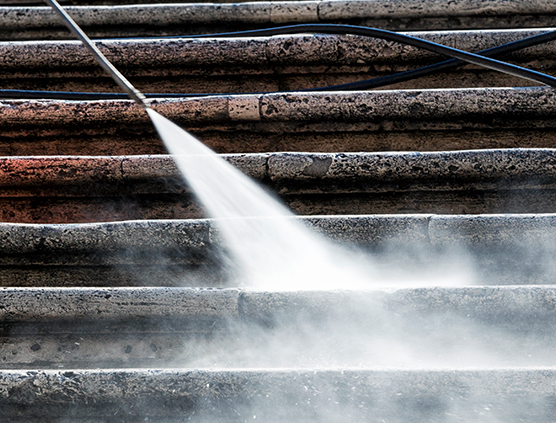 Benefits of Our Power Washing Services:
Whether you are a home or business owner, you want the exterior of your property to look great. But it's about more than appearance. Regular cleaning of your home or business exterior helps to prolong the life of building materials, so your structure will be sound for years to come. Our power cleaning services will provide all of the following benefits:
Improved Curb Appeal: A clean exterior makes for a better first impression. When you hire us for residential or commercial power washing, you'll remove any dirt or dust that's accumulated and ensure your property exterior looks inviting for all visitors.
Health Preventative: Mold and mildew growth are unavoidable, but there is something you can do to help stop its spread. Regular home pressure washing will remove the growth before it has the chance to spread inside your structure and affect the health of your family.
Saves Time: You could rent power washing equipment and do the job yourself. But that requires a lot of time and effort. When you hire us, you can leave the work to us and spend your time doing more important things.
Request a Free Estimate
Are you interested in learning more about our power washing service? Allied Services is here to answer any questions you have about our cleaning methods and capabilities. You can even tell us more about the project you have in mind, and we'll provide a free estimate. Contact us today!